Industrial style wedding ?! A must-have of decor!
Industrial style weddings are the latest trend in terms of decor. The industrial or urban style was born in the 50's in New York, when young artists began to install in large factories to live, which made these spaces gain a new aesthetic trend.
The best of this style is that it perfectly combines two styles, which we love, the rustic that can combine with a modern environment with furniture worn in metallic tones and vintage.
Years later this trend was extended to the world of weddings. Have you ever imagined celebrating your day in buildings where beams, plumbing, or brick walls are in sight?
We suppose not, but let yourself be rendered by these images: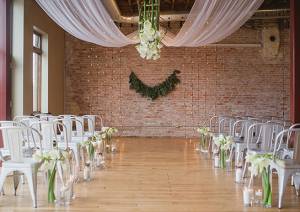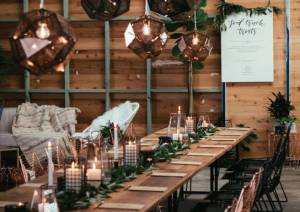 If you opt for industrial style, you should not abuse the decorative elements and the choice of the pieces must be made in a judicious way, being able to opt for antique furniture, metal chairs, wooden pallets, contrasting with candles, glass jars with flowers .. .
The metallic details such as gold, silver, copper and rosé gold give the industrial touch, leaving us completely surrendered to the contemporary style.
Bet on green foliage, large, small, on walls or even in small pots. If they have flowers, don't abuse and opt for sober tones.
A wedding of this style can be realized in a space with rustic skewers, warehouses, spaces of minimalist environment … The romantic climate, delicate and full of sophistication is left to give way to a decoration with more personality. It is perfect for the most modern  brides and grooms, who seek to escape the standards of marriage in an environment with an innovative proposal.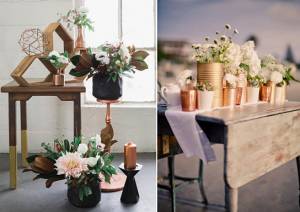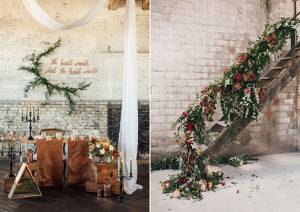 Lighting is important to maintain the decorating mood. Ideally use gambiarra lights; fairy lights, which by being delicate can put them in the arrangements and even create a lighted wall like a modernized backdrop; metallic pendants and candles, these specially placed strategically to romanticize the environment.
Fairy lights have become so popular in wedding decorations that they are already considered a must-have item and their origin is precisely the industrial style and the old factories. It is a super stylish detail that can be explored in a variety of ways, even if the decor does not follow the industrial style. Regardless of the decorating proposal, they are extremely democratic and guarantee an infinite freedom of creations.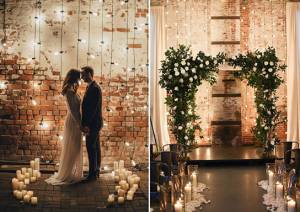 Like it as much as we like ?! Enjoy and be inspired, because the decoration will be beautiful !
Pinterest; Wendy Alana Photography; M2 Photography; Albert Bardina